Well we're busy celebrating our first birthday over at
Scraptures
. Come on over for our weekend crop! Lots of games and prizes and FUN!!
Here's a layout I did for the HOT POTATO challenge.
Journalling reads: Christmas eve 2010. When I showed this photo to my little six year old friend, Hannah, she asked me with wonder in her little voice, "Did Santa take that picture?" What else could I answer but, "Yes, he did!"
For doing this particular challenge, I won the following blinkie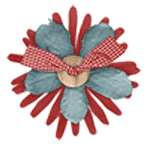 Why not pop over and join us!